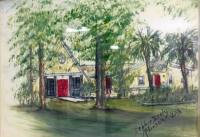 We are a small Episcopal church that until recently, did all its bookkeeping the old fashioned way - on paper ledgers! Then we moved to an accounting system that was too complicated for most people to use. Needless to say, we rarely had any timely, usable information for Vestry (our leadership) to make necessary financial decisions. This changed last year when we hired Vickey Boatright Richardson who provided an affordable, easy and timely system using Quickbooks Online that works perfectly for our needs. She helped us streamline our financial reporting, while keeping the information that we need to make good financial decisions. She also offers money-saving tips, including how to get discounted versions of software. She is very easy to work with and is quick to help solve any issues we may have. We are very happy that we signed on with Vickey Boatright Richardson.
Ashley O'Brien, Treasurer All Saints Episcopal, Tybee Island, Georgia
"...provided an affordable, easy and timely system"